The Purchase – GingerSnap Photo Camper Part 2
With an address, a few photos of a listed camper, dreams and ambitions led up a few hours north on a search for the perfect camper.  The trip conversations…at least the ones I was awake for, lol…consisted mostly about the design and vibe of what we were hoping to create and of course the name, we had to come up with a fun, catchy name for our company.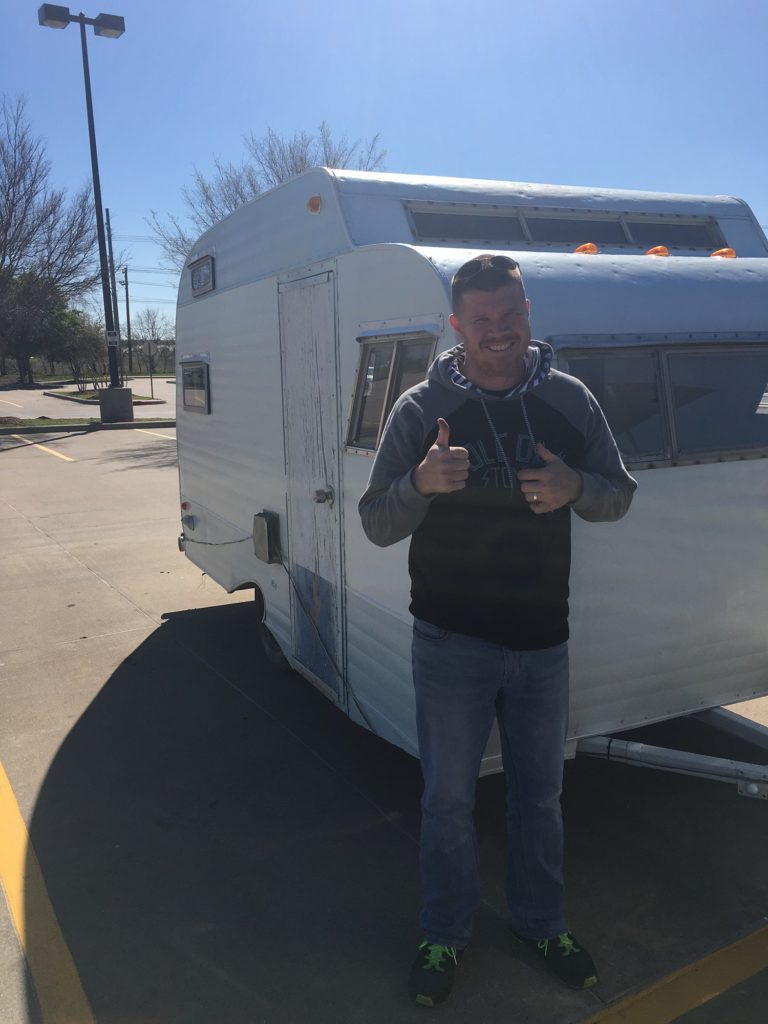 I remember distinctively, just before we got to the location, Patrick looked at me and said, try not to fall in love at first sight.  He said this for two reasons, on the drive up we found another vintage camper about 45 minutes from this one that we scheduled to meet the following day, just to decide which would be best for our project.  And second, for the sheer fact that after ten years of marriage he knew I was going to fall head over heels without thinking it through.  I agreed, I needed to think rationally, it was important!  But guess what guys, I did just what he said not to do…I fell in love.  I fell in love with the camper, I fell in love with the sellers, and it was just perfect.  Patrick may have pulled me aside as we were looking it over and said, "You see all the hail damage right?"  I may have not heard him through all my giddiness and glee.  He says I heard him and responded with, "yes, it's fine, it is only in the back."  So, we made the deal.  We put our money down and made arrangements to pick it up the next morning, since it was so late already.
Picking Up The Photo Camper
 
We went to dinner at a nearby restaurant then found a local hotel to crash for the night.  It was like Christmas Eve and I was an 8 year old little girls dreaming of what was to come in the morning.  My brain was active all night long, I was sketching and designing and looking for style ideas on Pinterest so I had very little sleep.  When the alarm sounded in the morning, I was raring to go!  Patrick on the other hand not so pumped, he likes to sleep in while I am an early chipper riser.  I bribed him with breakfast and he obliged.  Side note, Patrick things the Pancake House, which was right outside our hotel, serves the best pancakes ever!
After eating we headed straight to pick up our girl, our camper.  Patrick again, mentioned something about the hail damage, still I must have not heard him or chose not to hear him.  We finalized the deal, hooked up and decided it would be best to replace the tires for the long haul home, so we headed to an open tire shop nearby.  When we arrived to the tire shop, I got out to get a once over of our beauty and that's when I saw it…there was SOOOO much hail damage.  I thought to myself, why didn't Patrick tell me it was this bad.  I didn't notice ALLLLLLL of this last night or even this morning!    Patrick was not all that interested in hearing my regret and my worries but was very interested in saying, "Jamie, I told you, I showed you!"  Whatever, no he did not!
 
He promised it would be all good, that he had a plan and that he wouldn't have purchased something he did not think he could work with.  But guys, it was so bad, like cottage cheese bad.  I relaxed a for the moment and began my hunt for a name and a logo design, the fun stuff.